Hello!
Been waiting to do this for sometime ago since I know how to cook and bake but never did . Finally I done it and hope you guys like this!
Serves 5
prepare: 15 minutes
cook: 20 minutes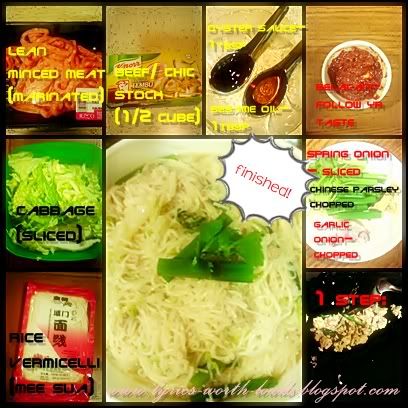 Ingredients:
1 packet of rice vermicelli
1 bowl of cabbage-sliced
Minced meat-marinated
-sesame oil 1 tsp
-oyster sauce 1 tsp
- soy sauce 1 tsp
Beef or Chicken stock- 1/2 cube
Oyster sauce -1 tbsp
sesame oil - 1tbsp
Belacan- follow your on taste
Spring onion , onion and chinese parsley- sliced / chopped
Step 1:
heat water in pot / wok and put in rice vermicelli into it for 4-6 minutes, it depends.
take it up when its done- drain it.
Step 2:
Heat oil in wok, stir fry onion, garlic and meat until its 3/4 cook. Take it out and wait to cool.
Step 3:
Add water and cabbage in wok with beef/ chicken stock and close wok with cover until its shimmers.
Open lid, add in oyster cause, sesame oil and belacan- mix well.
Step 4:
put in bowl and serve.
hehe, so its done.
* taste does not guarantee.
* always follow your instincts and it will turn out great!
bye bee, see you guys soon!